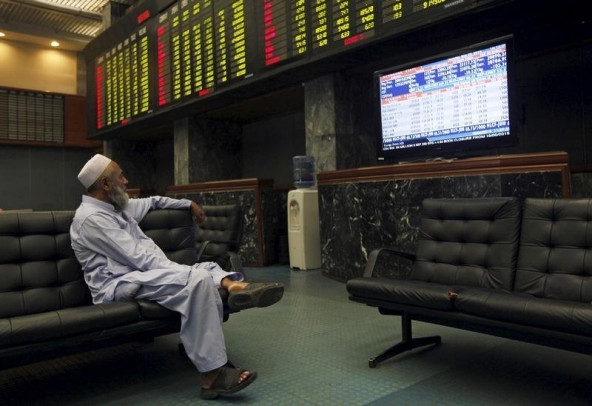 KARACHI:

On Wednesday, the Pakistan stock exchange faced a mixture of upward and downward pressure and as a result, the KSE-100 index hovered between green and red areas throughout the day, ending with marginal gains.
Investors' anticipation of an improving economy following the resumption of the International Monetary Fund (IMF) lending program bolstered the index by 17 points.
The downward pressure stems from a continued rise in cases of Omicron variants which have fueled rumors of another lockdown in the country. This factor, in particular, weighed on investor morale, as the suspension of business activities would further hurt the faltering economy.
Previously, trading had started on a volatile note and the market oscillated between positive and negative territory in the early hours of the morning. Although the market posted losses around noon, late trading helped it recover and close with a slight increase.
At the close, the benchmark KSE-100 increased by 17.05 points, or 0.04%, to stand at 45,407.89.
A report from Arif Habib Limited said the market was playing in a limited area, with investors avoiding the risk due to the growing number of cases of the new variant of Covid-19 Omicron in Pakistan.
Profit-taking was seen in the first hour of trading as the market saw a battle between the bulls and the bears throughout the day. The market continued to move sideways, with significant volumes of Tier 3 stocks, the report added.
JS Global analyst Neelam Naz said the benchmark KSE-100 managed to close in the green at 45,408, gaining 17 points overnight.
The daily volume leaders were WorldCall Telecom (+ 8.8%), Unity Foods (R) (+ 53.4%), Telecard (+ 3.8%), First National Equities (+ 2.1%) and TRG Pakistan (+ 0.2%).
Telecard announced in its material news that its wholly owned subsidiary, Supernet, was awarded a major fiber optic supply project from a Pakistani mobile network provider, which kept its stock in the spotlight during the session.
"Going forward, any market correction should be seen as an opportunity to accumulate technology, oil and gas exploration, banking and cyclical stocks," the analyst said.
Global trading volume reached 432.1 million shares, up from 375.99 million on Tuesday. The value of the shares traded during the day was Rs 10.3 billion.
The shares of 363 companies were traded. At the end of the day, 174 stocks closed higher, 167 were lower and 22 were left unchanged.
WorldCall Telecom was the volume leader with 75.6 million shares, gaining Rs 0.19 to close at Rs 2.36. It was followed by Unity Foods (R) with 66.8 million shares, gaining 0 , 79 Rs to close at 2.27 Rs and Telecard Limited with 23.8 million shares, gaining 0.65 Rs to close at 17.96 Rs.
Foreign institutional investors were net buyers of Rs 1 billion worth of shares during the trading session, according to data compiled by the National Clearing Company of Pakistan.