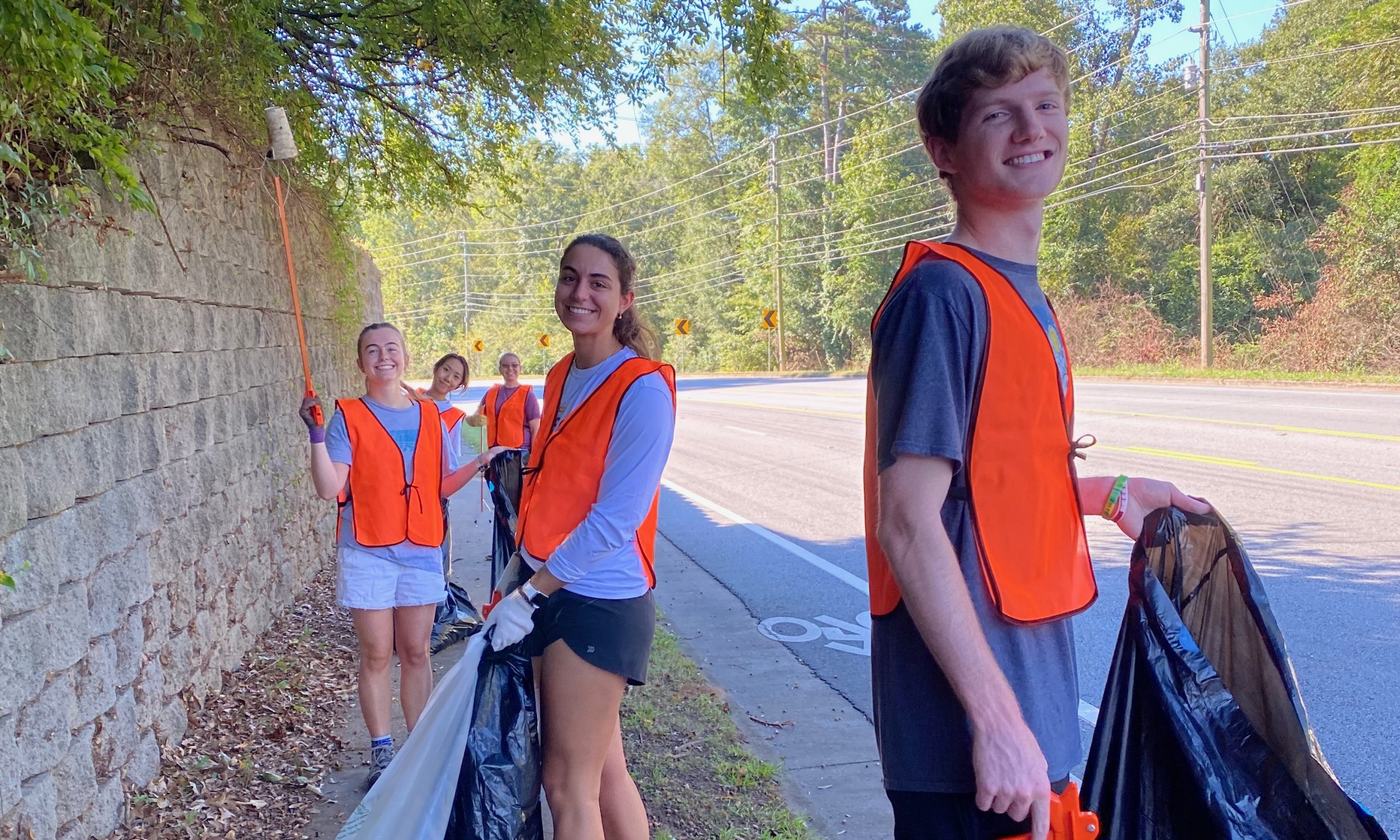 CORRECTION: Jenna Jambeck, Ph.D, and Kyle Johnsen, Ph.D, are not University of Georgia graduates. They both graduated from the University of Florida College of Engineering. Grady Newsource regrets the error. 
Take a walk around your neighborhood: maybe to the closest busy intersection, maybe on the trail behind your house. What do you see? 
Likely, litter. Nearly eight billion people inhabit the Earth, so it's difficult not to become desensitized to the growing presence of chip bags, plastic bottles and cigarette butts along roadways, sidewalks and even out in nature. 
But what if there was a way to track the amount and type of litter we see – to quantify the problem and eliminate the possibility of desensitization?
The Marine Debris Tracker (MDT) has been legitimizing that idea since 2011, and local players like litter abatement organization Keep Athens-Clarke County Beautiful are furthering the app's influence in Athens a decade later. 
The Marine Debris Tracker
The MDT is a database of litter concentrations in localized areas fueled by citizen science. It was created by Jenna Jambeck, Ph.D, and Kyle Johnsen, Ph.D, both graduates from the University of Florida College of Engineering and now professors at the University of Georgia. Their vision for the MDT app is to give citizens a tool to log the amount, type, brand and other characteristics of litter they find on organized cleanups, or just walking their dog. By logging this litter, Jambeck hopes to better understand how types of litter in certain locations can show what environmental efforts are needed in that area. 
Why it's newsworthy: As the responsibility of keeping the Earth clean falls more and more to citizens alone, an app that quantifies the user's positive impact on the environment while contributing to a database larger can help us understand the power of individual action.
Taylor Maddalene, Director of Circularity Assessment Protocol (CAP) at Jambeck's Circularity Informatics Lab at UGA, said that an easy way to determine what environmental services a city lacks to control waste is to look to science first.
"This kind of data will show what works and what doesn't and will be an easy way for cities that have implemented things like [plastic] bag bans to see clearly if that translates to less waste, "Maddalene said.
Almost four million items have been connected to the application since its creation. CAP uses this database to research waste reduction and more. The data is open source, so anyone researching this plastic pollution issue can access it through MDT's website. Organizations can even create their own lists in the database which includes only the elements of their cleanings for ease of visualization.
A circular system
Understanding "what works and what does not" means finding out what types of waste escape the circular system of the waste stream. That's right: circularity is not just an economic buzzword, but an environmental solution. Without waste, each exit of a waste stream returns to an entrance, creating a closed loop where no waste escapes on the roads and into nature.
"When patterns start to emerge, you can understand why things are slipping out of a waste management stream," which is MDT's primary focus, said Maddalene.
Waste can escape from the waste stream because it is too light and is blown out of the system. Local options for recycling this item may be lacking, or there may be too few public trash cans or household collection services. These are localized environmental needs that can be determined by studying waste circularity through TDM.
For example, near half of the plastic produced is a lightweight plastic packaging, consisting largely of single-use items intended to be used for 10 minutesutes then discarded, said Maddalene, former director of the Plastics Initiative for the National Geographic Society. Most of these items cannot be recycled, creating a very linear waste chain.
"The idea of ​​circularity is that you don't have that: 'create it, use it once, throw it away.' Either you create things that are sustainable and reusable, or you create something that can be reused, recycled efficiently, "Maddalene said.
Enter: Keep Athens-Clarke County Gorgeous
But who are these citizen scientists collecting circulatory data for MDT?
They are ordinary people, many of whom form organizations like Keep Athens-Clarke County Beautiful (KACCB), a subsidiary of Keep America Beautiful (KAB) housed in the Athens-Clarke County Solid Waste Department, whose goal is to empower citizens and businesses to implement waste reduction and beautification strategies in their communities.
"You want to be proactive about the waste," said Stacy Smith, program education specialist for KACCB, "We don't always want to pick it up, we want to figure out what's going on and get it before it. does not fly out the window. or gets dumped.
Smith knows that a tool is as good as its app, which is why in April 2021, the nonprofit partnered with the UGA Office of Sustainability for the UGA Earth Day Global Community Cleanup, a campus-wide effort to pick up as much trash as possible on Earth Day week.
Thanks to the "Keep Athens-Clarke County + UGA" listing on the MDT app, all parties involved collected 870 debris during this week out of a total of 579 cleanups, mostly around campus, according to MDT datasets .
Kira Hill, a third year genetics and psychology student at UGA, used the app for the first time while cleaning up. She said the digital quantification of the endless amounts of trash she found on the trails behind her apartment in Athens added to the triumph she felt only for physical cleanings.
"For me, the impact is when I can walk away from the site and say, wow, it looks so much cleaner," Hill said.
Like Hill, KACCB is not new to cleaning up trash, they just follow it digitally.
As of this year, they have run 78 Adopt-a-Highway groups across the county, 53 of which have hosted a cleanup this year. Their 101 groups in total collected 1,420.5 bags of trash and 328.5 bags of recycling on 237.29 miles of ACC roads this year, according to KACCB clean-up data.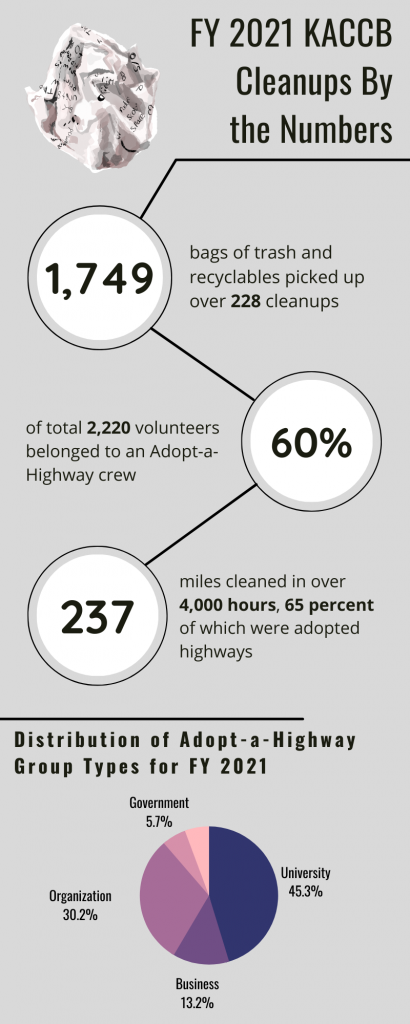 A deeper litter index
However, these pre-existing groups are slow to make room for MDT in their quarterly cleanups, so KACCB has been looking for ways to extend the success of the Earth Day cleanup into their daily operations.
All KAB affiliates are required to track waste in an annual waste index. In each ACC commission district, six roads are selected and driven once a year to visually determine their waste level on a scale of zero to four – zero being the cleanest and four being the level of illegal dumping.
The problem with the range index? While this gives the KACCB a general idea of ​​which areas of the county are most littered with waste, the information provided is too vague to be actionable. Additionally, many trash indexing sites are not located in the center of Athens, which means that few cleaning groups promote trash collection there. KACCB needs physical cleanups that show how different types of waste are concentrated in certain areas if they are to understand how to turn level four sites into level zero sites.
"A lot of the roads that we know have major issues just happen to be the ones that are maybe a little further away from everyone," Smith said.
On top of that, the COVID-19 pandemic has suspended much of the work of KAB affiliates, including reporting the annual waste index. With this newfound freedom, Smith said KACCB was able to take a step back and do something different.
To advance
The KACCB therefore returned to MDT. In the app, they've added "target survey areas" for users to their list to see which areas need a pickup the most. These basically correspond to the six old litter index sites in each county district.
The KACCB plans to encourage the use of these target survey areas by organizing quarterly cleanings where monitoring through the MDT app is the priority. Pre-existing events where this structure could be implemented include another cleanup of the Earth Day campus, the Living rivers waterway clean-up and potential event that may occur during the regular annual KACCB waste indexing period.
"Information that is just passively obtained with the application and the people who use it is very good information. And then being a waste reduction organization, being more systematic about it would be great, "Smith said.
At this time, the KACCB has not yet reported these MDT results to the KAB, and it is possible that the KAB will continue to require only national surveys on the zero to four range index. In this case, KACCB will shrink its MDT data and report the index as it always has.
"But we'll have more specific information about the waste in our community," Smith said.
The app itself is constantly re-evaluated for updates that make it more user-friendly and easier for students like Hill to walk around town, Maddalene said.
"The intention with these kinds of free, open-source, widely available citizen science tools is to put so much data in the hands of the people who have the capacity to influence change, and to do so in a way that is easy for them and meaningful, "says Madeleine. This is what the Jambeck Circular Computing Lab at UGA is constantly working on.
So, maybe the next time you walk around and see a plastic bottle or a piece of metal, you will pull out your smartphone and get a follow-up.
Reed Winckler graduated in Journalism from the Grady College of Journalism and Mass Communication and in Anthropology from Franklin College of Arts and Sciences at the University of Georgia.